Singular Choices for Multiple Choice - Friday Lecture Talk by Olivier Danvy
Knowledge for the weekend: Ten years ago, Frandsen and Schwartzbach devised a scoring strategy for multiple-choice exams that credits partial knowledge and levels out guessing.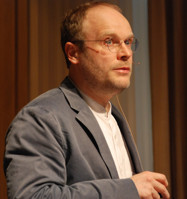 WHAT:The goal of this talk is to describe a decade of experience using and evolving this mathematics-based scoring strategy.
WHEN: Friday September 9th, 14:00 — 15:00
WHERE: Peter Bøgh Auditorium, Nygaard Building
More info and abstract here - also, see our website on Friday Lectures.