Join Internet Week Denmark 1-5 June in Aarhus
Internet Week 2015 is the second annual Internet Week Denmark festival about the Internet and the booming internet economy in Denmark. During a five days festival we will celebrate the success and the impact, the Internet has on innovation, business, and our everyday lives. Everyone can participate in the events of the festival - whether you are a digital professional, a student, an investor, an entrepreneur, a citizen or just an Internet enthusiast. The festival is open for all, just like the Internet is open for all. We welcome you to join!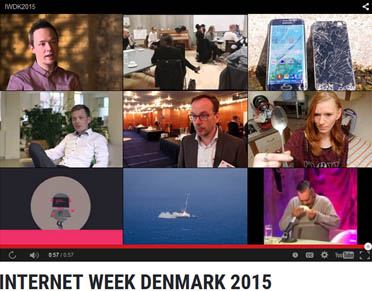 A FESTIVAL CENTERED IN AARHUS
The festival takes place in and around Aarhus, June 1 - 5, 2015. Centrally located in Aarhus, there will be a main venue which features and hosts activities. However, most events will be crowd-sourced and thereby held at private companies and institutions all over the region.
Events will be uploadet here as they appear:
http://internetweekdenmark.com/events
IT City Katrinebjerg partners are for example engaged in the following events:
Day 1 Monday
Official Opening
Smart Cities – @Aarhus Town Hall
HealthCare IT – @Katrinebjerg
Day 2 Tuesday
Smart Cities, Virtual Reality – @Aarhus Town Hall and/or Ridehuset
Digital design & Urban Computing
Privacy day - @Katrinebjerg
Day 3 - Wednesday
Crowdsourcing – @Filmbyen Aarhus
Day 4 - Thursday
Education and ICT, Coding pirates (in progress) @Aarhus City Hall and Ridehuset
Open till midnight @Aarhus city
Day 5 – Friday
Digital democracy..??!! (wanted) – ideas are welcome – contact marlene.thomsen@alexandra.dk!
More about Internet Week Denmark
A FESTIVAL INITIATED BY SMART AARHUS
Internet Week Denmark is a main project from Smart Aarhus and is an initiative from the Smart Aarhus 2012 vision process. Smart Aarhus is a digital marketplace and a new mindset developed in order to create sustainable urban innovation and growth. It is a model based on involving stakeholders through partnerships.
Smart Aarhus was founded in 2012 as a partnership between the the City of Aarhus, Aarhus University, Alexandra Institute, VIA University College, the Danish Technological Institute, and the private company Systematic.
Internet Week Denmark is based on the crowdsourced concept. In addition to the crowd-sourced activities, there will be an official program organized by the secretariat. However, the majority of activities are organized by private companies, networks and public institutions.
http://internetweekdenmark.com/about
Themes 2015:
Technology, software, mobile
Media,
Business E-commerce
Citizenship Smart Cities, open data
Leadership
Creative 3D, fashion, gaming