Researchers at CTIC got 3 papers accepted at IJCAI 15
Peter Bro Miltersen, Simina Branzai, Branislav Bosansky, Aris Filos-Ratsikas and Søren Kristoffer Still Frederiksen are all among the CTIC researchers that got 3 papers accepted at the IJCAI 2015 conference.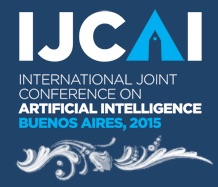 IJCAI is the International Joint Conference on Artificial Intelligence, the main international gathering of researchers in AI. Held biennially in odd-numbered years since 1969, IJCAI is sponsored jointly by IJCAI and the national AI societie(s) of the host nation(s).
IJCAI is a not-for-profit scientific and educational organization incorporated in California. Its major objective is dissemination of information and cutting-edge research on Artificial Intelligence through its Conferences, Proceedings and other educational materials.
This years edition of the conference will take place in Buenos Aires, Argentina from July 25th to July 31st, 2015.
CTIC will be represented at IJCAI 15 by Simina Branzai. We all wish her good luck with the presentations.