Programmeringssproget GO: introduktion og cases fra Lunar // Tech Talent Night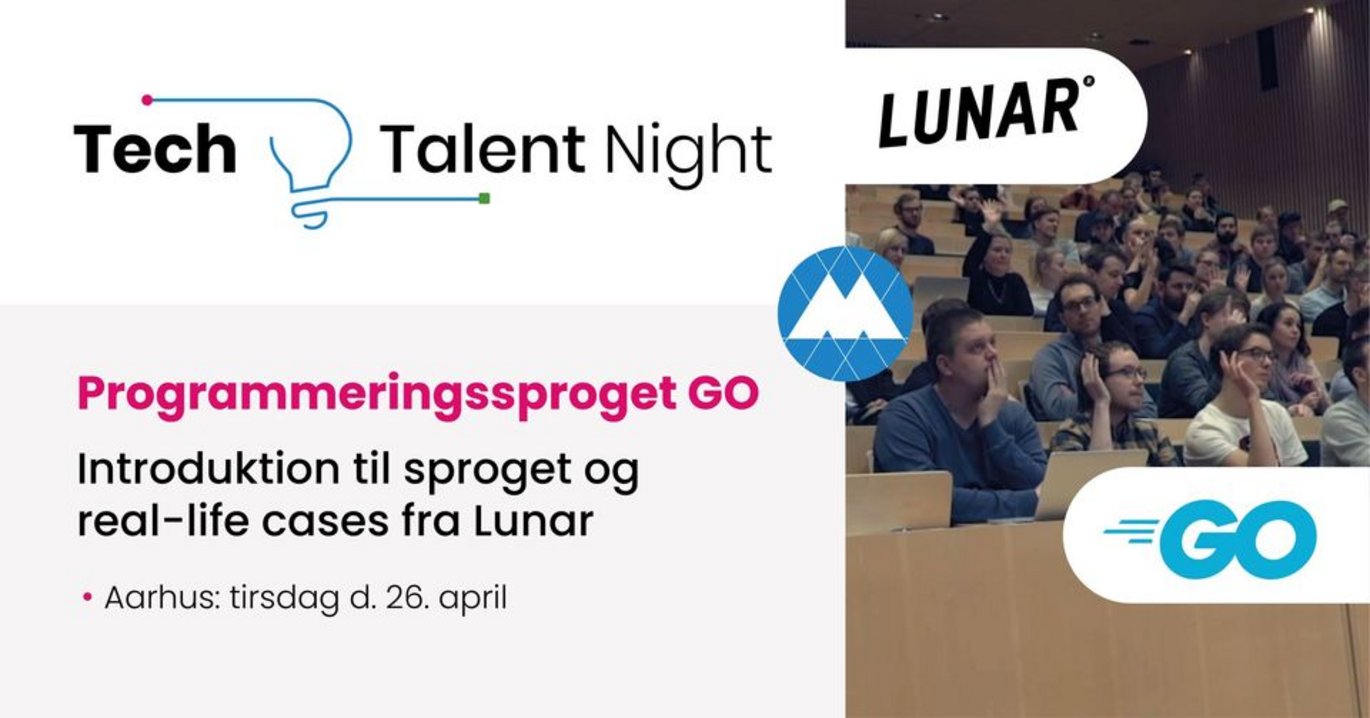 Info about event
Time
Tuesday 26 April 2022,
at 16:30 - 18:30
Location
INCUBA Katrinebjerg, Lokale: 5511-022 (i kælderen) Åbogade 15, 8200 Aarhus
Leeeet's GO!
GO (eller Golang) er et programmeringssprog udviklet af Google. Det er et sprog, som bruges til programmering på tværs af store netværksservere og store distribuerede systemer. Mange af de helt store tech-virksomheder bruger det - f.eks. Google, Netflix, Twitch og Twitter.
Det er et af de hurtigst-udviklende sprog, der findes, og flere siger, at "GO is the future of application development" - men hvorfor? Hvad kan GO, som de andre sprog ikke kan? Og hvordan ser man egentlig sproget udvikle sig i fremtiden?
Det kan du blive klogere på til denne Tech Talent Night, som vi afholder i samarbejde med den danske fin-tech virksomhed, Lunar, som også har GO som en del af deres tech-stack
Til dette event kan du møde Jesper fra IT Minds, som vil give en introduktion til GO, herunder hvorfor sproget bliver mere og mere populært, hvordan det adskiller sig fra andre programmeringssprog, og hvornår det giver mening at bruge GO.
Du får også lov at møde Bjørn fra Lunar, som vil fortælle om, hvordan Lunar har bygget en moderne bank med Cloud Native-teknologier og er gået fra en lille Ruby on Rails monolit til en distribueret microservice arkitektur skrevet i GO. Bjørn vil desuden gennemgå, hvorfor Lunar i starten af sin Microservice-rejse satsede på netop GO - og i hvilke andre sammenhænge, Lunar benytter GO.
Eventet er for dig, der er it-studerende og er nysgerrig på, hvad GO er og måske tidligere har prøvet kræfter med GO. Du behøver ikke have kendskab til GO for at deltage i dette event - vi skal nok give dig en god intro til sproget.
Vi serverer kaffe, snacks og sandwich til aftensmad, så du kan holde et stabilt blodsukker under hele eventet