Summer School on Game Theory in Computer Science
June 26-30, 2006

Overview of Aarhus
The below map gives you an overview of downtown Aarhus and the different locations related to the summer school (click on the map to get a larger map). The walking distance from "Cab Inn" to the lecture hall is 2.3 km. Note that next to the road "Åboulevarden" there is a river.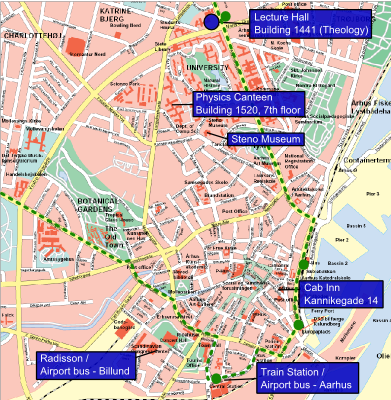 The original map without the annotations is available in pdf.
Lecture Hall
All lectures, coffee breaks and the poster session will take place in the Auditorium Building 1441 (Theology). The building is located on the northwest corner of the main road intersection of Randersvej and Nordre Ringgade. Lunches will take place in the nearby Building 1422 ("Stakladen"). There is a parking lot behind the auditorium building - access through Langelandsgade/Tåsingegade.
The posters of the participants will be on display in an area next to the lecture halls for the whole duration of the summer school.
Steno Museum
On Wednesday June 28, 17:30, we will be visiting the Steno museum which is located in the main campus of the University of Aarhus.
Physics canteen
On Thursday June 29, 18:30, we will be having the dinner of the summer school in the Physics canteen, which is located at the 7th (top) floor of the physics building (building 1520). Access to the building is from the road "Ny Munkegade", entrance A.
Local bus
The dashed green line on the map shows the route of the city bus number 3 and the green dots are some of the stops along the route. The schedule is available online - please note that on June 26 the bus schedule changes to "Ferieplan", holiday schedule, which are the yellow pages. To get to lecture hall take the bus in the direction "Trige" or "Skejby". Get off at the stop "Nordre Ringgade" . Note that local buses (yellow) are entered at the rear and that tickets are bought in a machine in the bus that only accepts coins. A single ticket costs 17 DKK. Multiride tickets (2 zones) must be bought in a kiosk before entering the bus and costs 105 DKK for 10 tickets. Most kiosks sell multiride tickets.
---